---
Migrating from Gmail
We make the switch from Gmail to Shortwave simple, with all of your most important information, habits, and workflows syncing seamlessly between the two. Learn how to transition to Shortwave without missing a beat.
Import your data and settings
Shortwave is built on top of Gmail, so we keep all of your data synced between both platforms:
Labels
Your Gmail labels are automatically imported into Shortwave when you sign up. Any changes made in Shortwave are immediately synced back to Gmail. This means you can take full advantage of Shortwave's Smart Labels without worrying about your Gmail inbox being kept in the loop.
Changes made to a label in Gmail, such as edits to a label's name or color, are synced to Shortwave daily. To force Shortwave to fetch your latest Gmail labels immediately, sign out and back into Shortwave. Note that this does not apply when adding or removing a label from a message, which will always sync instantly between Gmail and Shortwave".
Signatures
Add your existing Gmail signature to your outgoing emails from Shortwave. If you opt to enable a signature, you will see a signature icon at the bottom of the compose box. Clicking it will allow you to toggle between including or removing your signature for individual messages.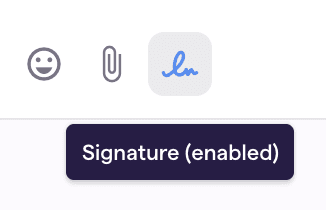 If you want to modify your signature, you can make edits from your Gmail settings.
Aliases
On sign-in, Shortwave syncs any aliases associated with your Gmail account. You can configure your alias preferences to always reply from your default address, or from the same address the message was sent to.
To update your default address, you'll have to edit your account settings from Gmail.
When sending an email, you can also choose to change the sending alias by clicking the reply arrow in the top left of the compose box.
Filters
Filters created in Gmail persist in Shortwave. This means that Gmail filters causing threads to skip your Gmail inbox will cause the threads to also skip your Shortwave inbox.
Skipped threads can be found in Shortwave via search. But if you want them to always enter your Shortwave inbox, manage filters in your Gmail's filter settings page.
Shortwave automatically imports your last 90 days of email history on sign in. Find out how to import your full Gmail history.
Transition your workflow
Gmail has six inbox types. Regardless of which one you use, you can easily migrate your triage practice to Shortwave.
If you're looking to optimize your workflow and get the most out of Shortwave's features, check out the Shortwave Method.
Here is how each inbox type can be configured in Shortwave for a smooth transition:
Default
Gmail's default behavior consists of tabbed inbox categories to separate out: Primary, Social, Promotions, Updates, and Forums. Shortwave gives you this functionality and much more with Smart Labels. We offer 9 built-in labels (including Promotions, Updates, Socials, and Forums — which all sync back to Gmail) as well as the option to create as many custom labels as you'd like.
Labels in Shortwave give you the power to bundle, enable push notifications, create schedules, and much more. Learn about labels.
Important first
Gmail's "Important first" inbox offers two inbox sections: important and everything else. On Shortwave, we encourage users to pin important threads to the top of their inbox and triage everything else. You can also enable push for your highest priority senders so you never miss a message from your VIPs.
Unread first
Gmail's "Unread first" layout divides your inbox into unread and everything else. Shortwave de-emphasizes unread status as a triage indicator, encouraging users to triage emails as soon as they've been read. However, you can still search "unread" in the search box to see all of your unread messages in one place. From there, pin all of your important threads — it's more reliable and actionable than using unread.
Starred first
Gmail lets users star emails and see all of these in one place. On Shortwave, we have pinning for important threads. Unlike in Gmail, Shortwave allows you to prioritize your pinned emails using drag and drop so you can treat your inbox like a real to-do list.
Priority first
Gmail's Priority Inbox offers configurable inbox sections. Shortwave offers a suite of features that gives you powerful control over what shows up in your main inbox and when, including: Delivery Schedules, skip inbox, bundling, pinned threads, and much more. And if fine-grained control over your inbox isn't enough, use our powerful search capabilities to decide exactly what emails you want to see.
Multiple inboxes
Gmail's final inbox style gives users configurability over their inbox sections based on Gmail's query format. On Shortwave, use our powerful search capabilities to decide exactly what emails you want to see. Used in conjunction with fully-configurable labels, Shortwave can be customized to show you only what you want to see, when you want to see it.
Maintain your routine
Years of using the same email client comes with muscle memory that's hard to overcome. Luckily, a switch to Shortwave means you can keep all of your email habits intact, from using keyboard shortcuts to typing "Gmail" into your search bar.
Keyboard shortcuts
Shortwave supports all of the Gmail keyboard shortcuts you're used to plus a whole lot more—including shortcuts for thread actions, email formatting, and navigation. Like Gmail, a blue highlight indicates what thread or section keyboard shortcuts will affect.
To reference Shortwave's primary shortcuts from the app, press Ctrl / (Ctrl / on Windows) to open the help box. You can also read a full list of support keyboard shortcuts in our shortcuts guide.
Gmail extension
If you find navigating to Gmail is a tough habit to break, Shortwave has you covered with a Shortwave Gmail extension. The extension simply adds a button in Gmail that redirects to your Shortwave inbox.
You can download the Shortwave Gmail extension from the Chrome Store.
FAQ
What happens if I snooze a thread in Shortwave?

Snoozed threads in Shortwave don't show up as snoozed in Gmail. Instead, they get temporarily archived. However, rest assured that a thread snoozed in Shortwave will still show up in both your Gmail and Shortwave inboxes at the exact same time when it un-snoozes.

What happens if I schedule a message in Shortwave?

Messages scheduled to send in Shortwave won't show up as scheduled messages in Gmail. However, you can view these via the Sent page in Shortwave to edit, delete or send messages ahead of their scheduled time. Once sent, threads will show up as sent in both Gmail and Shortwave.