---
Compose & send
Shortwave gives you fine-grained control over how and when you send, with a powerful suite of features that includes everything from integrated markdown to AI-summarized forwards. Writing, sending, and reading emails has never been more delightfully smooth.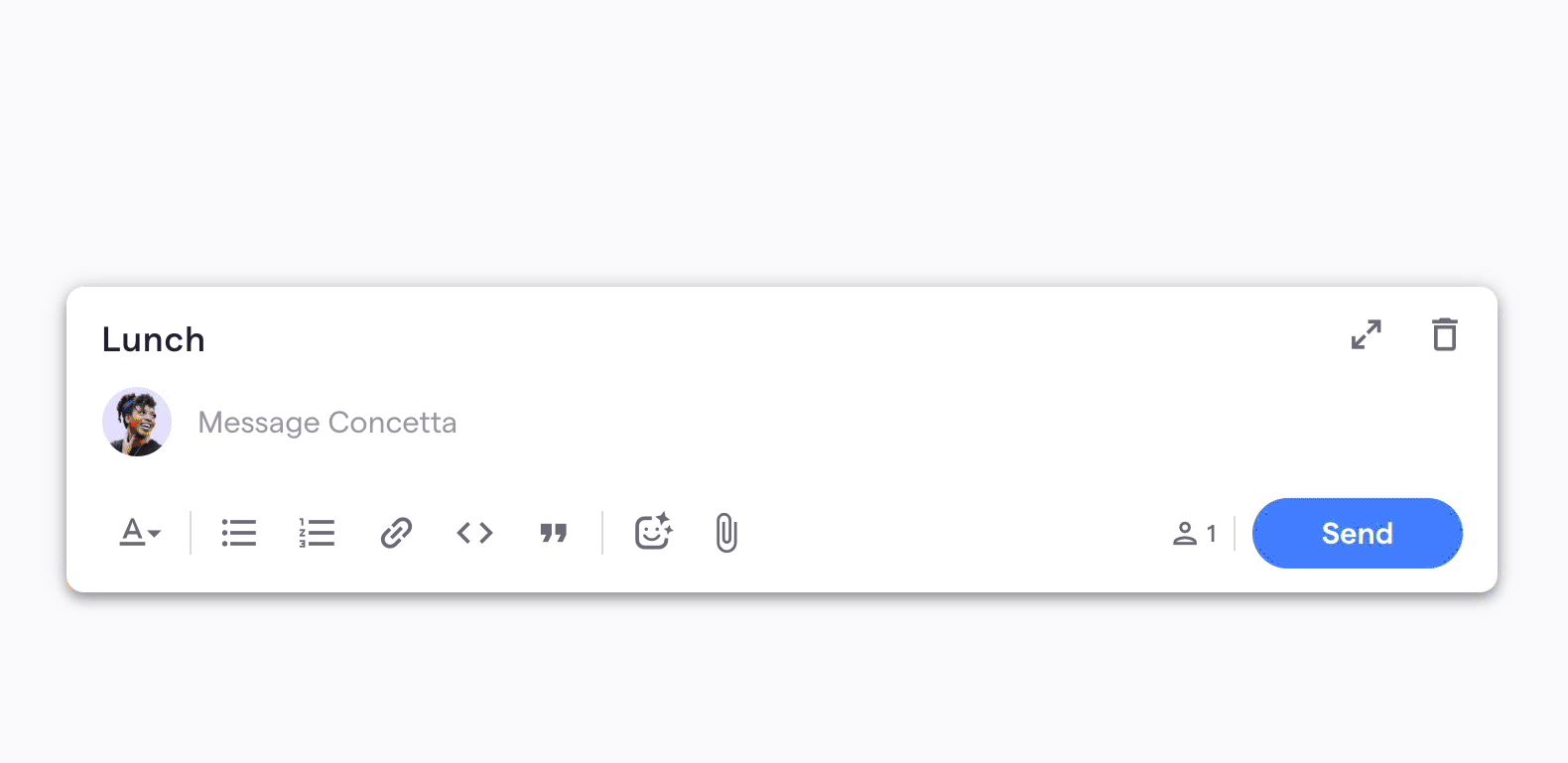 Send on your time
Responding to emails is a burden. Sometimes hours a day can get sunk into the tedious process of crafting, editing, and sending messages. That's why Shortwave has created a snappy new interface to let you reply and send faster. But don't worry, we have undo send for those times when you send a little too fast.
Replies
Reply all makes it easy to keep groups on the same page, while built-in audience awareness makes sure you always know who you're talking to. Reply all to a thread by simply typing a message in the compose box and hitting send.
You can also direct reply to a sender to start side conversations that branch off from the original thread. Direct reply by right-clicking a specific message or clicking the reply button to the right of a message sender. You can then delete the people you don't want to include. Whenever people are added or removed from a thread, Shortwave shows you a clear divider so it's easy to tell who your message is going to.
Drafts
For the works in progress and the half-baked thoughts, Shortwave drafts are made to be easy and accessible. Once you start a draft, you will see a widget appear in the sidebar letting you view, edit, and delete your drafts with ease.
You can also find drafts at any time by searching is:draft.
Undo send
Sometimes we do our best editing after hitting send—only to realize we've addressed an email to the wrong person or sent a typo to our boss. Shortwave has you covered with undo send.
Send an email and hit undo on the toast or Ctrl z from the keyboard to pull the message back to a draft.
Undo send is set to 10 seconds by default, allowing you to revert any message to a draft within that time. You can also set your interval preference by going to Settings > My account. Select from 5, 10, 20, and 30 seconds.
Each message will be sent as normal—even if you close your Shortwave app or go offline—at the end of its pre-set interval.
Scheduled send
Have you ever written a draft that you're not quite ready to send—only to forget to ever send it?
Shortwave's scheduled send (currently only available on web) gives you the ability to schedule an email to send at a future time.
To schedule a message, click the right side of the send button the next time you're composing a message. This will open our natural language date picker, allowing you to select a date and time at which your email will be sent. Once you've scheduled the message, move onto your next task while Shortwave does the work behind the scenes.
You can cancel or edit a scheduled message at any time. If you want to view, change, or reschedule a pending message, navigate to the Sent page on Shortwave. Open a pending thread and click "Edit" on the in-line banner to convert the message back to a draft.
Write beautiful emails
Shortwave was built with a focus on chat-like features, bringing you the best of both email and instant messaging. In fact, many of our most popular compose features—from mentions to GIFs—were introduced to bring the versatility and speed of chat to your email experience.
Forwards
Shortwave brings you forwarding with an enhanced design that embeds forwarded threads as an object inside of a new draft—no more confusing accordion formatting. This makes it incredibly easy for your recipient to scroll through a thread's history and see exactly who sent what.
And to help your contacts get caught up even faster—Shortwave offers Smart Summaries that you can attach to your forwards. Smart Summaries provide an AI-generated summary alongside the forwarded thread to make it easier for your colleagues to get all the context they need in seconds. Generate a Smart Summary at send time by forwarding a thread and clicking the 'Add summary' button.
For non-Shortwave users, forwarded threads will take on the standard accordion appearance, rather than the sleek formatting that you'll see from within Shortwave. However, Smart Summaries are visible on forwards regardless of whether your recipient is a Shortwave user or not.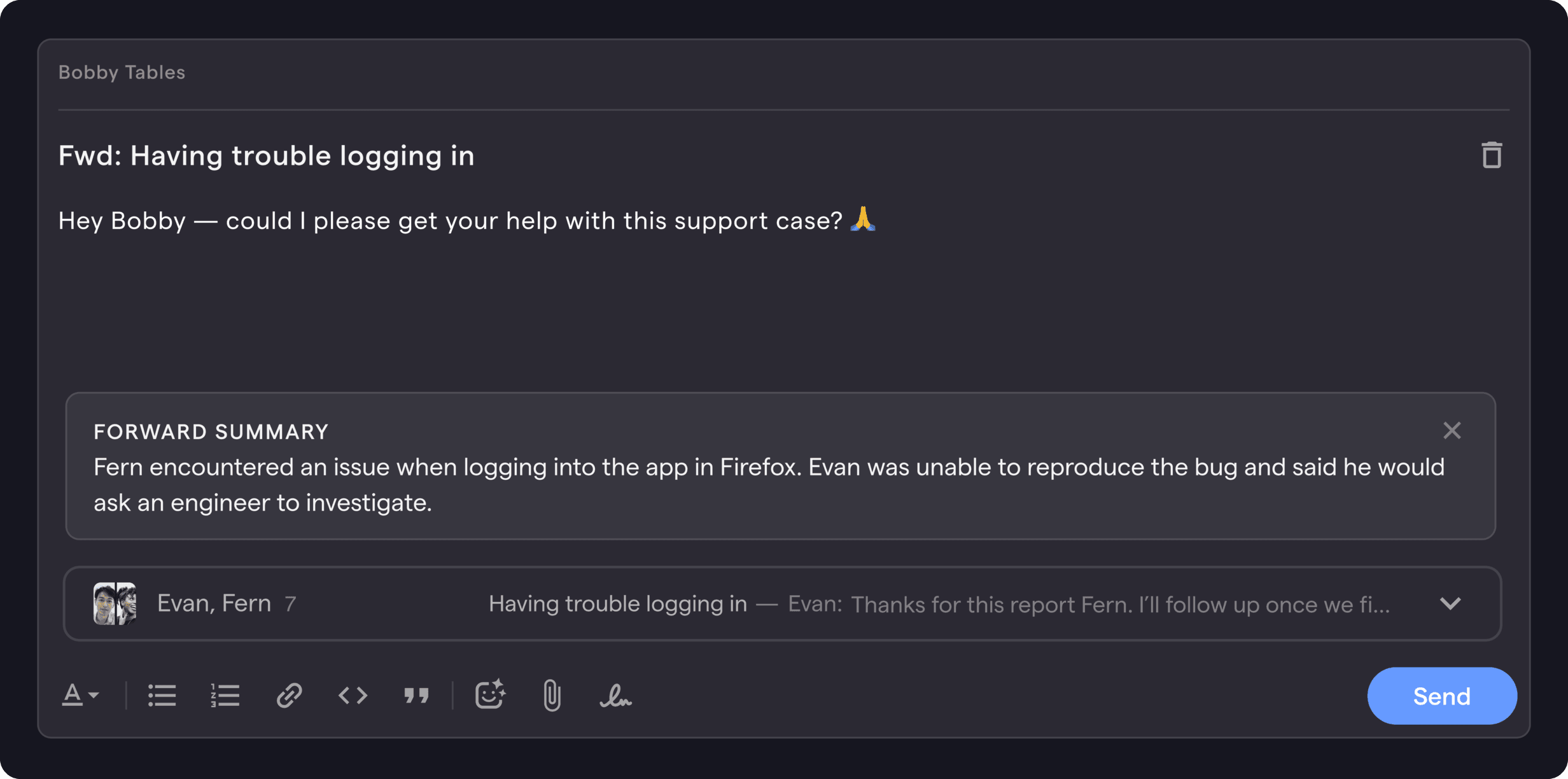 Formatting
The email compose process in Shortwave was inspired by the versatility of chat, bringing you many of the same features that you already know and love.
Use our GIF integration to create fun visuals that infuse your email with personality. Or select from our emoji picker to find the perfect way to express yourself. You can also drag and drop images to be in-line with your text, or drop files onto the bottom of a draft to include them as attachments. Shortwave also integrates Markdown with easy shortcuts, beautifully formatting emails across all email clients.
Tips and Tricks
Shortwave has a few more tricks up its sleeve to make your compose process delightful.
You can quick quote a message by highlighting the text you want to refer to and pressing q or clicking the quote button. This will insert the quoted text into the compose box so you can reference it easily.
Shortwave also supports mentions. Mentions let you add or remove someone on a thread with a special character before their name.
+mentions and @mentions add a person to a thread
-mentions remove a person from a thread
#mentions link to a person so you can easily share contact info
Use mentions to ensure a message ends up in someone's inbox. You can even use mentions in place of keyboard shortcuts to modify message recipients without having to take your hands off the keys.
Whatever your use case, Shortwave's sleek compose process brings you the range and customizability needed to get beautiful emails, every time.