Inbox by Gmail was an experimental inbox management tool created in 2015. Despite overwhelmingly positive feedback, Google sunset Inbox in March of 2019. While they added a few Inbox differentiators, like snooze, nudge and Smart Reply, Google failed to integrate core Inbox features, like pinning, bundling, and bundle delivery — leaving Gmail feeling outdated and cluttered. Inbox left many users with the promise that email could be so much better, and if you're reading this, you're probably one of them.
At launch, TechCrunch claimed that Shortwave was "resurrecting the Inbox experience," and The Verge referred to Shortwave as the "Inbox predecessor [they've] been waiting for".
While we've already welcomed many users who felt abandoned by Inbox's disappearance, after a year of feature launches, we're proud and ready to deliver on the promise that Shortwave is the best replacement for Inbox by Gmail.
Shortwave vs Inbox: feature comparison
We finally have parity for all of Inbox's best features and have leveled them up to ensure stress-free inbox productivity. Here are 5 favorite Inbox by Gmail features, and how Shortwave stacks up:
Bundles
Bundle schedule
Done, pin, snooze
Bulk actions
Modern user interface

Bundles
Inbox invented bundles, a great way to group messages and reduce clutter in the inbox. By leveraging Gmail categories (Social, Promotions, Travel, Purchases and Updates) Inbox automatically grouped related, non-urgent emails, giving you the power to perform bulk actions.
In addition to bundling by Gmail categories, Shortwave introduced a built-in Newsletters label which automatically applies to known newsletter senders. Shortwave also upgraded the bundle experience by syncing bundles with labels , giving you more power over your email than ever before.
Turn any label into a bundle with Shortwave's ability to bundle by label. This includes both built-in labels and labels that you create yourself. Because Shortwave keeps your labels in sync with Gmail, any label you apply using a Gmail filter can be used to control bundling.
You can also drag-and-drop threads together to create custom to-do bundles. Add a note to the bundle for easy reference, and prioritize it alongside your other emails. Grouping related tasks together using to-do bundles makes it easier to batch process emails rather than going line by line.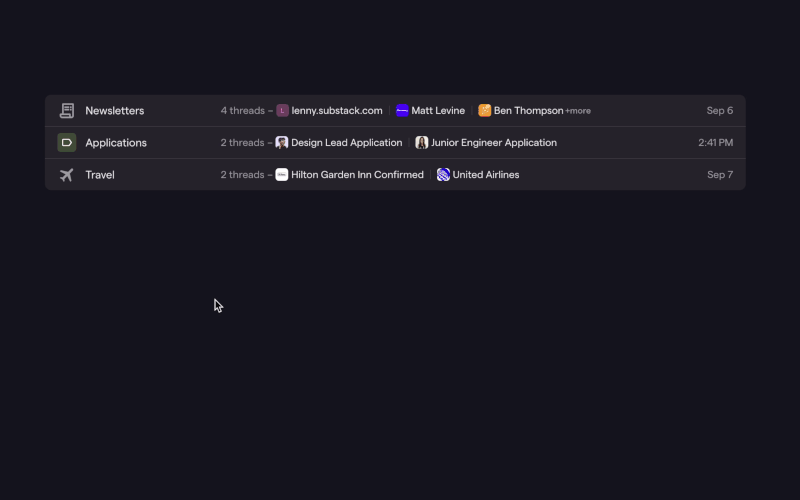 Bundle schedule
Bundle schedule was revolutionary in maintaining an organized inbox – allowing you to delay the arrival of low-priority updates and remove the constant distraction new email brings.
Shortwave improved this functionality to allow for even more control of when your email arrives in your inbox with Delivery Schedules. By deferring non-urgent threads, you can limit distractions and context switching in your inbox to focus on what matters most. Take the work out of your mind and calibrate Shortwave to surface these emails at the right time, every time.

Done, pin, snooze
Triaging your email was a core functionality of Inbox, and while snooze made it to Gmail, done and pin were lost in the mix.
Pin allows you to keep current to-dos and important information top-of-mind, and you'll find this action, along with done and snooze, readily available in Shortwave.
You'll also find that snooze is even more powerful in Shortwave with natural language processing (NLP)  date suggestions. You can type "3d" or "Jan 5" to snooze threads for specific times. Utilize smart snooze for threads that require a follow-up or action on a specific date.
While done always existed (and still exists) in Gmail as archive, the concept and check mark are no longer present. In Shortwave, the distinction of done versus archive is core to our methodology, which encourages an "out of sight, out of mind" approach. Shortwave recognizes the purpose of done, and by maintaining it, we aim to inspire users to actually assess if further action is needed on a thread. If the answer is no, mark it done, and move it out of your inbox.
Bulk actions
A huge draw to Inbox was the ability to take bulk actions (done, pin, and snooze) on bundles without ever reading or opening the emails.
Shortwave supports bulk actions in addition to a full suite of keyboard shortcuts, allowing you to take even more actions on threads without ever opening them, or taking your hands off the keyboard.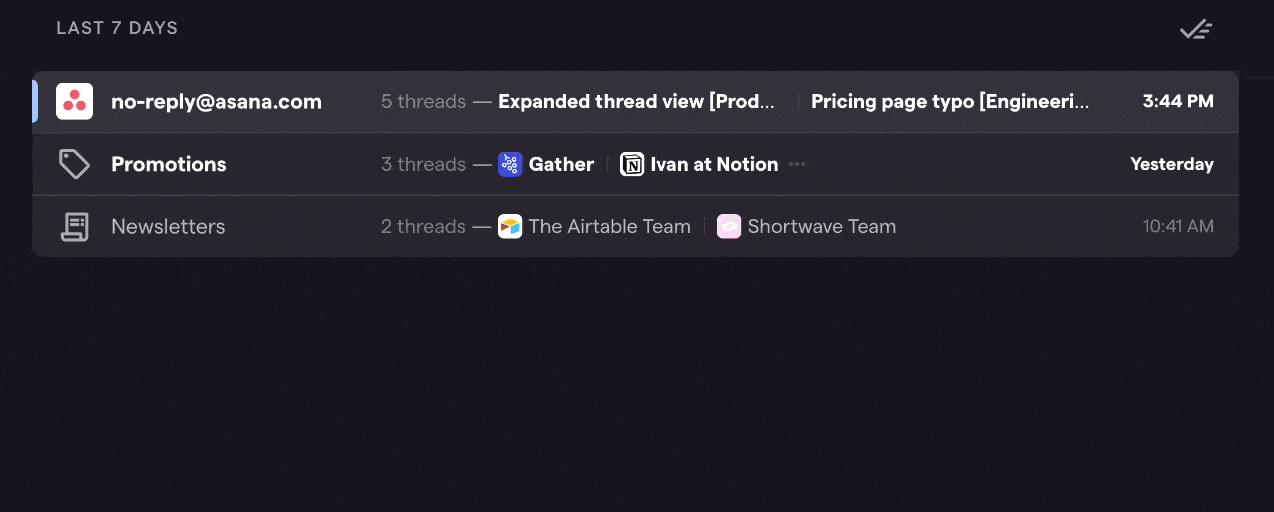 Modern user interface
Inbox was revolutionary in their modern user interface, which encouraged users not just to use email, but to enjoy it.
Creating an inbox experience that sparked joy was a key principle when we were building Shortwave. Though Inbox aimed to reduce distractions, its in-line replies didn't have the same responsiveness as messenger apps – scrolling through long threads was cumbersome, and nested replies made it difficult to quickly find the newest message.
In Shortwave, message history is collapsed by default so you can quickly get up to speed on a thread. Shortwave also built quick quote, giving you the ability to easily reference and quote thread history – no more messy "see inline replies below."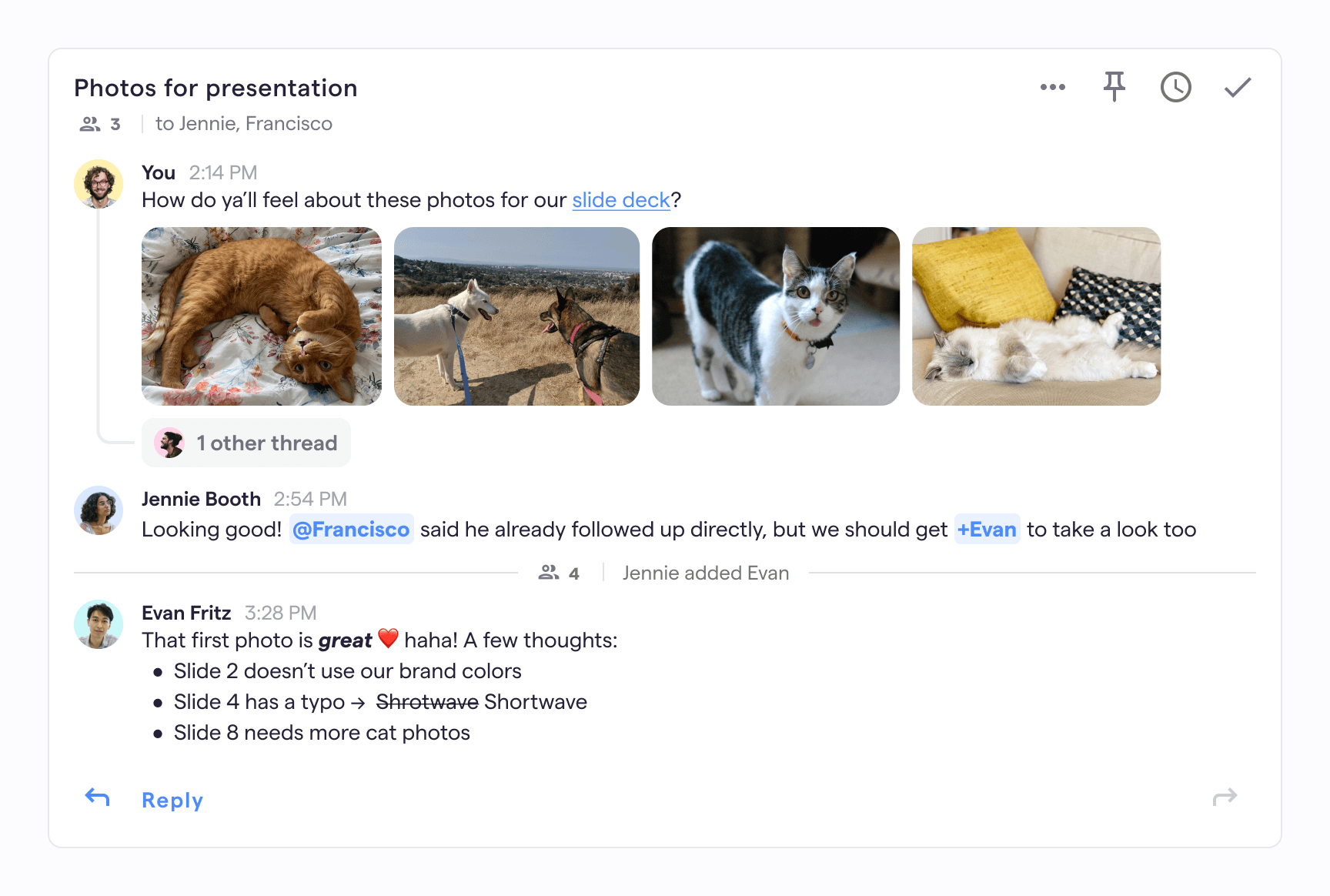 Above & beyond Inbox organization with exclusive Shortwave features
Shortwave has not only innovated on many beloved Inbox features but introduced brand new ways to regain control of your inbox. Sign up for Shortwave with Gmail and access an additional suite of productivity features and functionalities:
Smart labels
Smart labels automatically remember how you've labeled a person in the past, applying the same label for future emails from that sender. Labeling can be handy for projects and categorization, but don't let it take up too much of your time! Shortwave does a lot of this work for you already with bundles and powerful search, so you don't have to worry about labeling every little thing.

Native dark mode
Not only does Shortwave sync app appearances with your system theme, it also converts emails to dark mode for a true dark mode experience. Unlike Inbox and other email apps that just change the inbox background color to a darker shade, Shortwave adjusts each email's background color as well so you're not blinded by walls of white.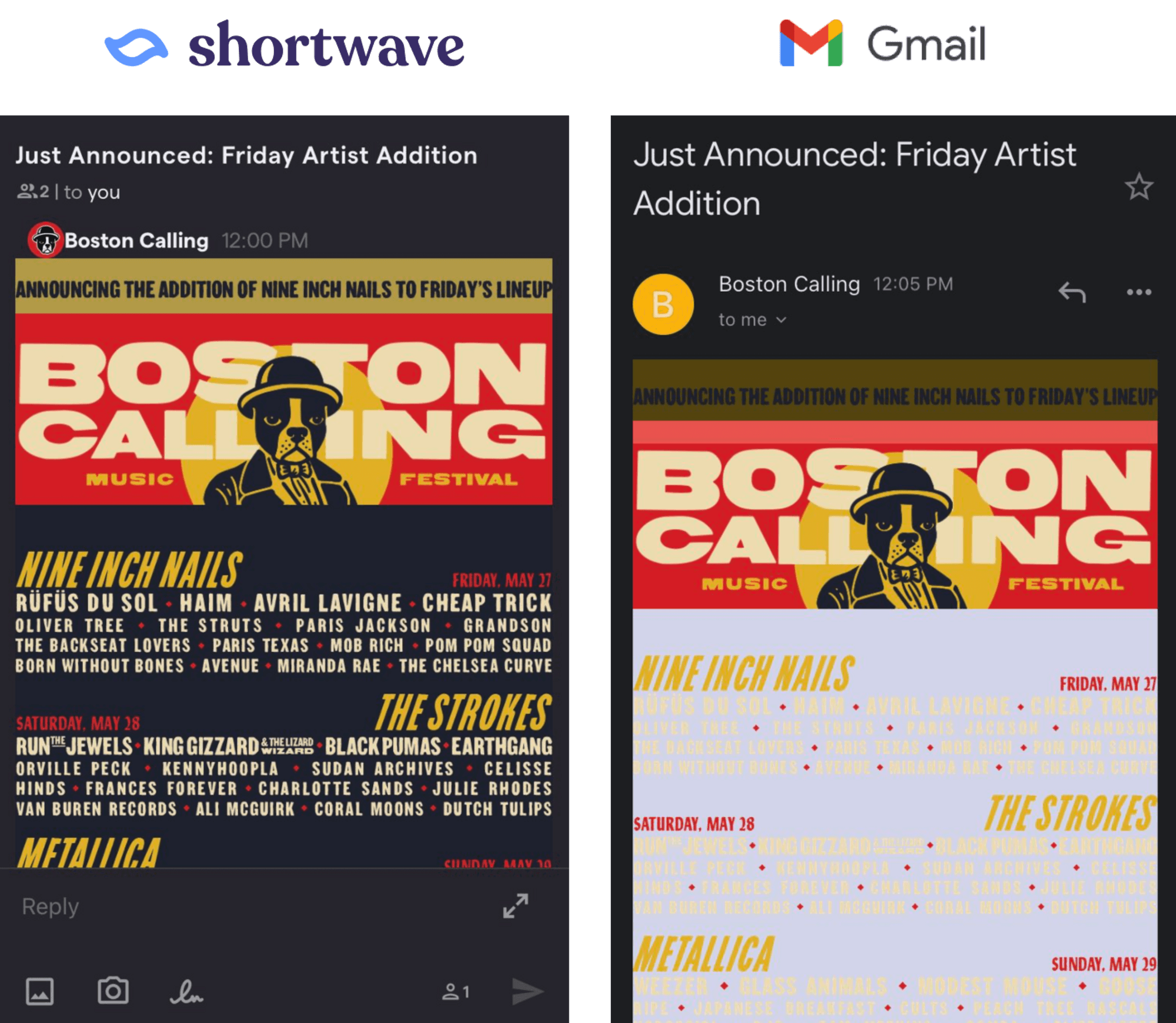 Streamlined compose and reply
Shortwave overhauled the inbox and compose experience to match modern chat apps with keyboard shortcuts, rich text, markdown, and mentions for managing recipients and participants. You spend, on average, 4 hours a day in your inbox, so updates like dark mode, thread summaries and a redesigned sidebar make those hours snappy, sleek and intuitive. Shortwave's chat-like interface, keyboard shortcuts and markdown support are built for the modern professional to actually get email done.
Skip inbox
Senders and labels can be set to "skip the inbox" from their respective settings. When you receive mail from a sender or label set to skip inbox, messages will immediately redirect to the done page. Enable this setting for threads (like promotions) that you know won't require action, but you might want to reference later, as these items still appear in search.
Custom notification settings
Shortwave comes with a strong set of default push notifications located in settings which you can further customize by label or by sender. For particularly important projects and individuals, set push notifications to on. Turn off all other notifications to reduce unneeded distractions for uninterrupted focus time to get deep work done.
Bring back your Inbox experience with Shortwave
Ready to relive the glory of Inbox? Getting started with Shortwave is simple. All you have to do is sign in with your existing Gmail account to get your inbox organized in minutes.