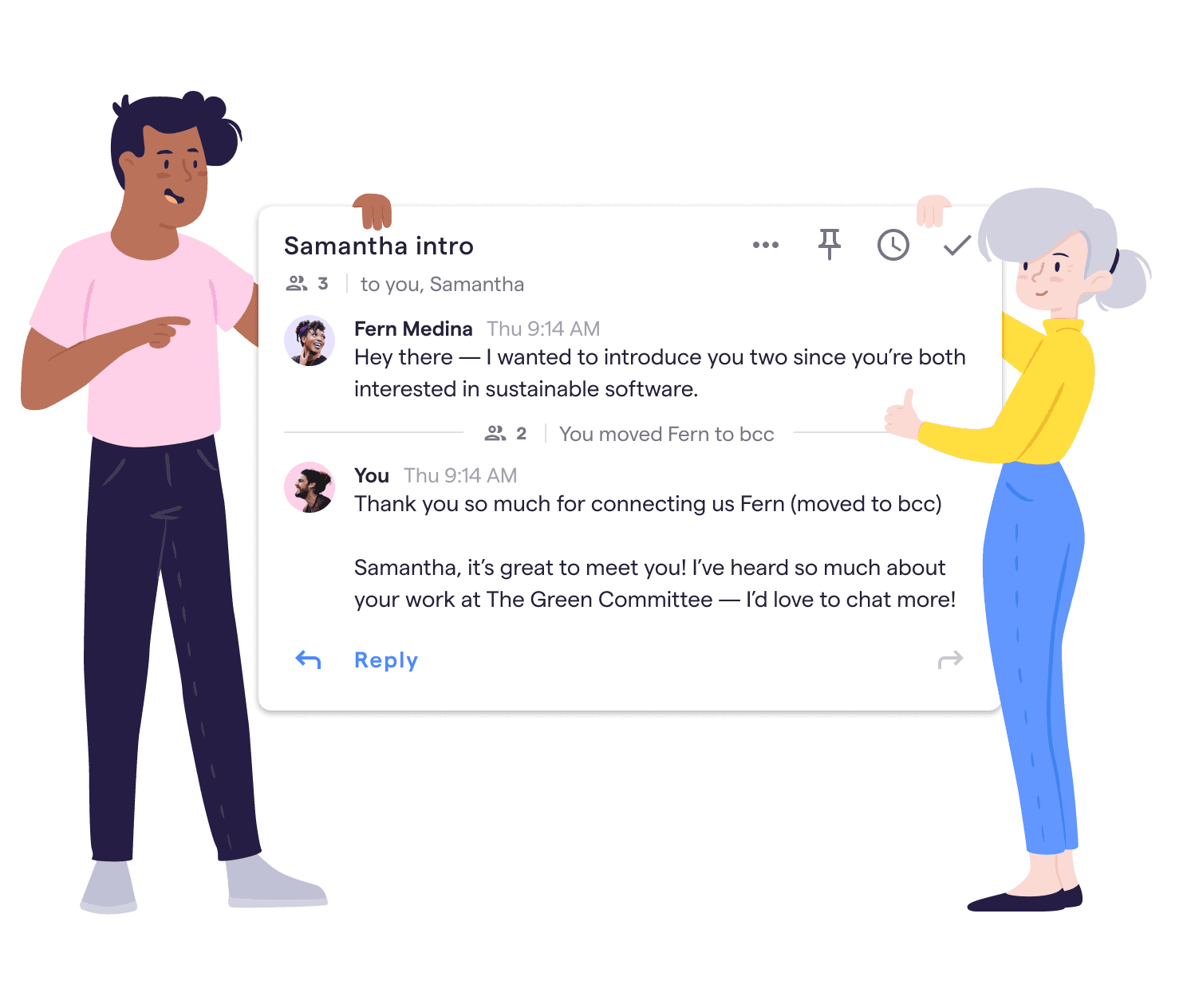 Your friend just sent you an email introducing you to the head recruiter for your dream job. Amazing....but now what should you say?!
Responding to introduction emails with the right tone and timing not only creates a strong first impression but also solidifies your relationship with the connector. But what exactly are the rules when it comes to crafting that first response?
In this post we will cover best practices with concrete examples on what you need to consider before you compose your intro email response, how to actually write it, and when to follow up!
Before you get started
Do some research
If you really want to impress the person you're connecting with, the best thing you can do is some research beforehand. Spend some time understanding why the sender thought this would be a worthwhile introduction and how to add value to your response. In the case of a job search, research the new connection's company and scan their career page to see if anything interests you. If it's a sales or vendor intro, visit their LinkedIn page to see what their background is, who they represent, and what connections you may already have in common.
Respond quickly
Responding as soon as you can is a great way to start an introduction. Not only does it show that you value the time the sender spent making the intro, but it also shows your genuine interest in the new connection. A good rule of thumb is to respond within 24 hours, so make sure to prioritize introduction emails as soon as they arrive in your inbox.
Composing your response
Update the to: and bcc: fields
When responding to an email introduction, you want the new connection to see the message, and you want the sender to get a copy of your response so they know you followed up. Moving the sender to the bcc: field allows them to be included on your initial response to the new connection but excluded when the new connection replies all. Some email clients have keyboard shortcuts for email introductions. In Shortwave, pressing ⌘ shift i moves the sender to bcc: and adds a quick thank you to your draft.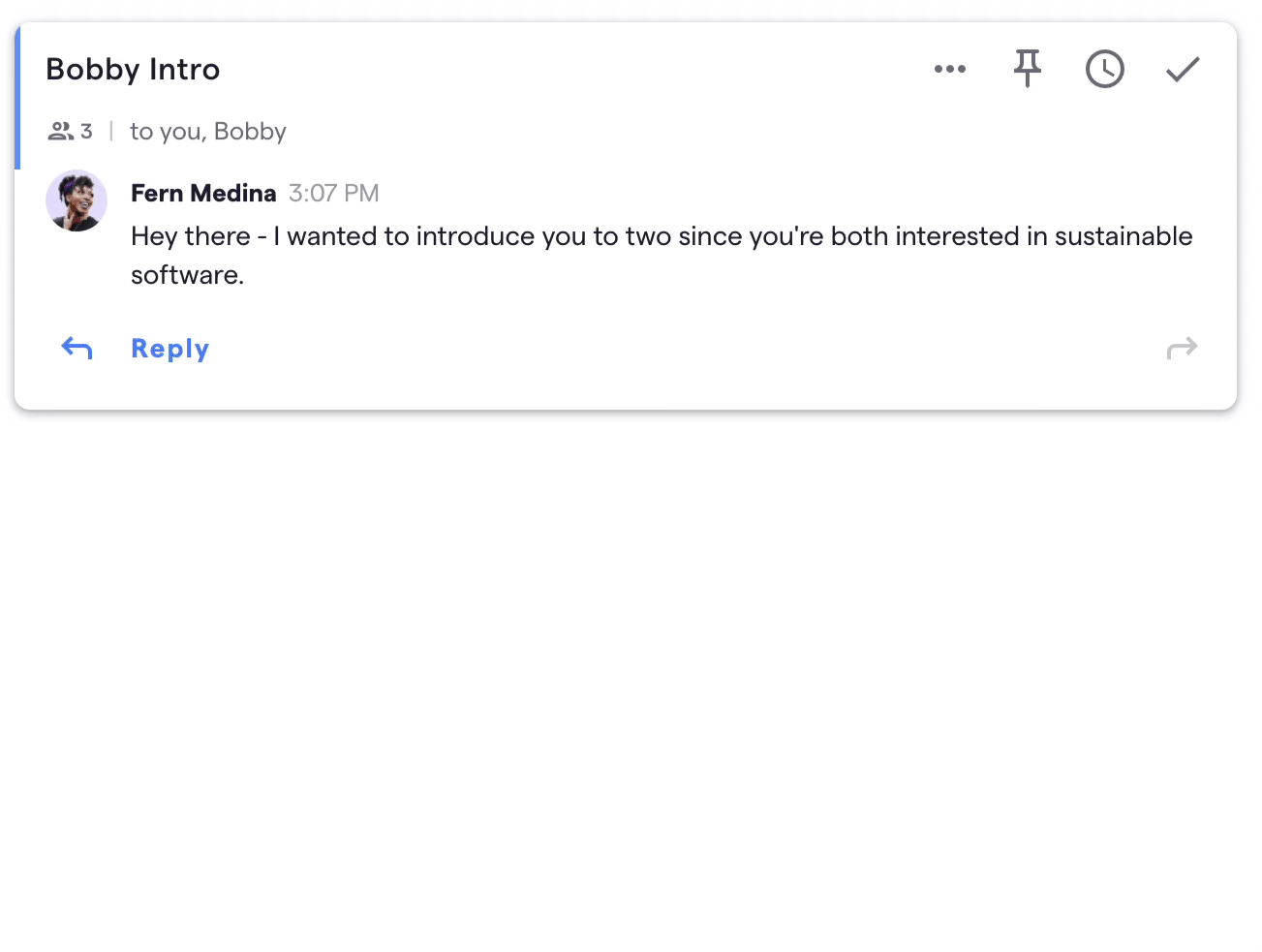 Address the email to the sender and say thank you
Begin introduction emails by addressing the email to the original sender. This helps bring the sender into the conversation naturally as the person that knows both parties and allows the email to be more personal.
Start your reply by thanking the sender for making the introduction. To help provide context, you can mention how you know the sender or why you asked for the introduction.
For example:
"Thanks for the intro Naomi (bcc'd)! I have been looking forward to connecting with Allen ever since you told me about his new project in West Village."
"Hey Rashida — I appreciate you making this introduction. Serving with you on the Chamber of Commerce these last few years has been such an honor."
Explain your interest
A few sentences expressing why the sender is making the intro and why you are valuable to the new connection is a natural transition to switch focus from the sender. It's best to keep this section concise so that you aren't bombarding your new connection with information that isn't relevant.
For example:
"It's great to meet you Marcus! I have worked in advertising at The Morning Star for 10 years as a senior reporter and am excited to explore new opportunities in television news writing."
"George has told me great things about you Aisha! I am new in town and am currently working to expand my local network. I'd love to learn more about your association and how I can be involved."
Suggest next steps
It's important to suggest clear next steps so that your email is actionable for your new connection. Introduction calls are great for building further rapport with your new connection so you can better discuss how you can potentially help each other. We recommend using tools like Cron or Google Calendar's new appointment slots feature.
For example:
"If you have some time in the next week I'd love to connect with you to hear more about your experience at Maxwell Corporation. Feel free to choose a time that works for you on my Google Calendar, or, if none of those work, let me know some times that work best for you!"
"I've attached some materials I'd love for you to take a look through that outline how I help business owners in our area save thousands each year by making the switch. Spend some time looking through those and let me know what questions you have along the way."
"Christine mentioned you had a program that helped business owners like me stay on top of their bookkeeping. I'd love to see more information about how that works and what pricing packages are available."
Close the email
Wrap up your email with a simple thank you (to the new connection this time) and a mention that you are looking forward to talking soon. If you are using an email signature, make sure all links and information are up-to-date. The last thing you want is an old job title and a broken LinkedIn URL cluttering up the bottom of your beautifully formatted email. You never want a new connection to have to work too hard to find a way to contact you!
For example:
"Thanks again for your time - I'm looking forward to connecting with you further!"
"I appreciate your willingness to meet with me! I'm looking forward to learning more."
After you respond
Follow-up with the new connection
People are busy and sometimes introduction emails fall to the bottom of to-do lists. It's recommended to wait five business days before sending a simple follow-up email if you haven't heard back. You can also snooze the email to show back in your inbox in 5 days to make sure you don't forget. If another week goes by with no response and you have a good relationship with the original sender, it would also be appropriate to check in with them to see if they have heard anything back, or if the new connection has told them they are not interested in meeting.
For example:
To the new connection:
"I just wanted to follow up to see if you had some time in the next few weeks to chat. Looking forward to learning more about the opportunity!"
To the sender:
"I haven't heard back from Margot after my response to your introduction email. Do you think I should allow for more time or give her a call directly?"
Keep the original sender informed
You don't need to keep the original sender in the loop each step of the way, but it's important to circle back and let them know important milestones like you landing a big deal or getting a job offer because of their intro. People love to know that their introductions were actually helpful! A handwritten thank you note goes even further if you want to stand out.
For example:
"Thanks so much again for introducing me to Kyle. He has been a huge help in my efforts to grow my network here in Denver. I've already gone on 5 coffee outings with people he has introduced me to and closed 2 deals!"
"I can't thank you enough for introducing me to Ha-yoon! I accepted an offer this week and am now the Sales Manager at 2x2 Enterprises!"
Stay on top of your inbox
You never know when that next career-changing introduction email might show up in your inbox, so make sure you don't miss it! Shortwave brings order to the chaos and helps you priortize emails that really matter.
If you're ready for a better way to email, give Shortwave a try today!